WhoooT!
I have an hour and a half to get my tute out for ya.
Firstly, promise a tutorial to make a fascinator with attached veil similar to the one you wore at your wedding.
Secondly, go see a horrible movie, and drink 3/4 of a pitcher of beer.
Thirdly, get to typing.
Okay dudes. Here's what you need. uno: Some
tulle
, the kind with the
bigger holes
, often called russian or french tulle. dos: woven fabric. it's more interesting if it's shiny on one side and matte on the other, but whatevs. knit would work, but you can't do the fun tearing quite so well. three: bobby pins, two or three. you can use a barrette as the base, but that's not what I did for mine. cuatro: some sequin trim, or a button, or a bit of a felted wool sweater. five and six: needle and thread. I think that's it.
Then take a breather, and decide it's gonna be a How To-sday meets Wedding Wednesday... more tomorrow folks
((waves goodnight))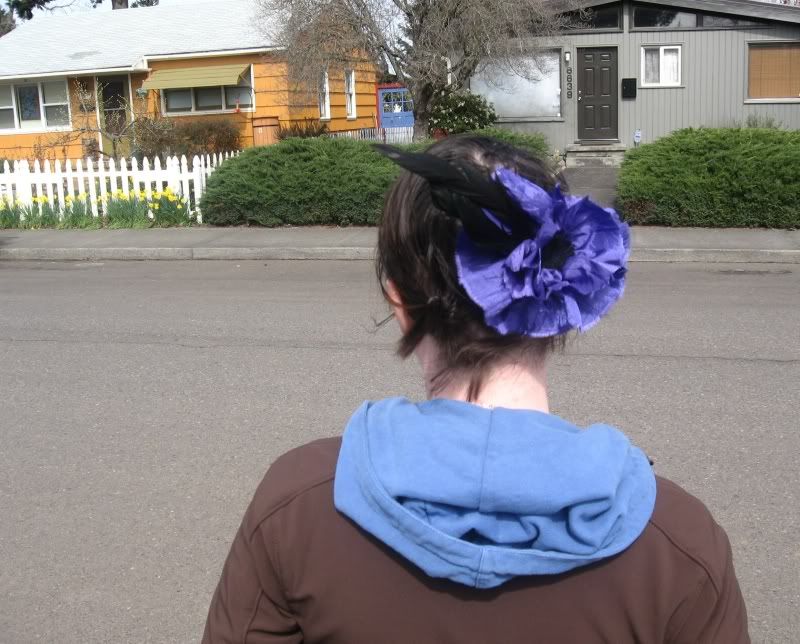 ((that one has a bit of felted sweater for the middle, you could use a button or a few other items too!))