Ok, I've given up on Cat Number 2 going up on lolcats. My dreams are crushed. Here's the picture: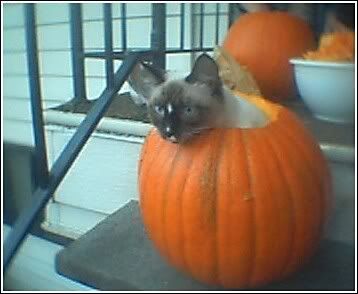 I have been busy with other activities, though. Embroidering some napkins/towels for the 50's swap. Painting a _________ and crocheting a ____________ for the same swap. My partner hasn't received yet so I have to keep it a little mysterious for now.
I just signed up for the garden supply swap. At the moment, my yard is covered with patchy sod My home's previous owner thought that laying out sod with horrible plastic mesh was a good idea. Apparently, the mesh makes it easier to roll out. However, there are tons of sod bugs that are eating away at it, making it have a bit of spotted yellow appearance. Fine by me - it gives interest I suppose. The south side of the backyard, on the side of the house, is a bit of a mud pit. That's where the roses live, and where marigolds and onions will live after I get them planted. I'm going to grow most of the veggies in the back, and some in the front yard. Also, I'd like to have a bird feeder that the birds actually like, and a hummingbird feeder that the birds actually use. They liked the peanut covered pinecones, but so did the squirrels. That's okay, I like the squirrels too. I've got a few ideas for what I'm going to make, but I'll keep them on the hush hush for now.
I should mention that I got my package in the 50s swap. I love these towels: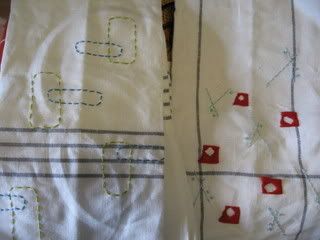 .
The apron/coasters don't go with my house, but I appreciate their water resistance.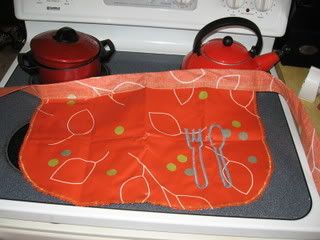 Here's why I love those towels: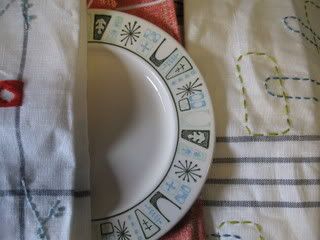 Happy Sunday. I only have two more work days, then I'm off for a week!