We've got the Tollhouse recipe memorized forwards, backwards, and adapted. We can throw any kind of dried fruit bits in, chips of chocolate and caramel, toffee bits. It's a really good, basic, adaptable recipe.
But it's what we always make.
To kick off cookie season this year I wanted to try something new.
Plus I had tons of hazelnuts.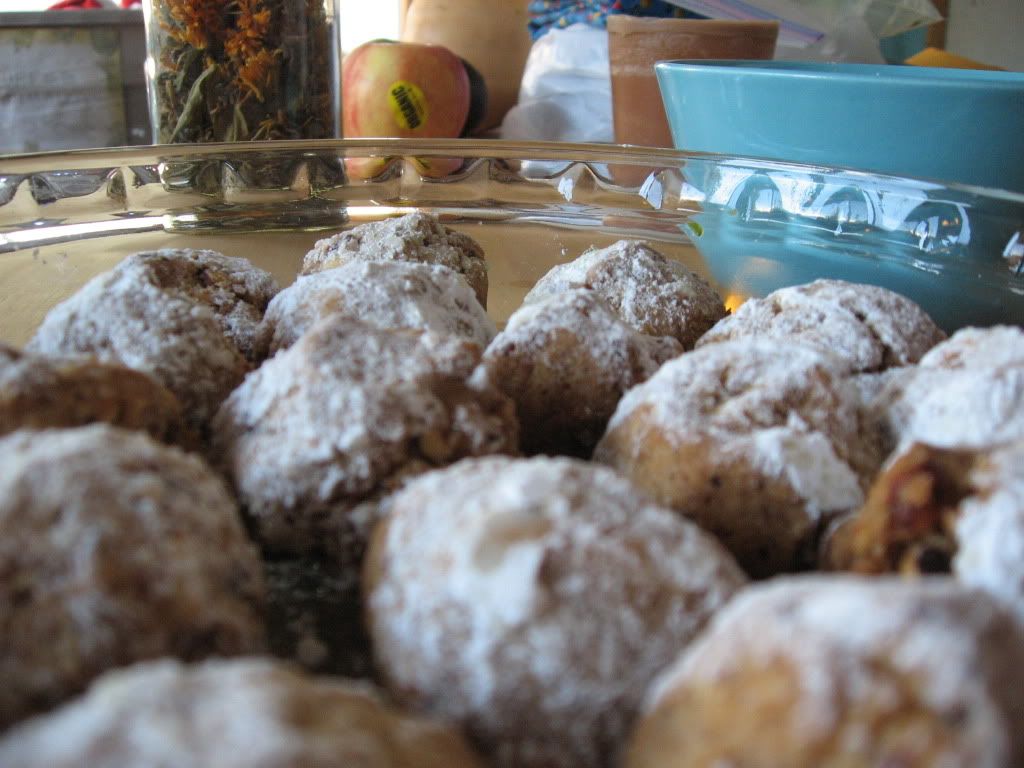 Here's the recipe link I used:
Buttery Hazelnut Cookies
I adapted it a bit. Here are my changes. Follow the link to the original.
2 cups sifted unbleached flour
1/4 cup sugar
1/2 + 1/4 teaspoon salt (my butter was unsalted. I would add more if I were going to make these again)
1 cup butter, room temperature (I would use the salted variety next time)
2 teaspoons vanilla extract
2 1/4 cups finely chopped hazelnuts or filberts
I used my stand mixer, but you can mix everything by hand.
Preparation:
Take 1 cup of unchopped hazelnuts. Put them in your vintage jar chopper, and spend 15 minutes trying to "finely chop" a bunch of hazelnuts. Throw the rest in a blender, on the "chop" setting for about 23 seconds.
Grease two cookie sheets. Although, you might not need to do this because of the high butter content...
Beat sugar in with softened butter until well mixed. Add the vanilla, and beat until blended. While mixer's on a low speed, sift the flour and salt together into the butter-sugar mixture. Once well mixed, add TWO cups finely chopped hazelnuts and mix well.
Shape the loose dough into 1/2 inch balls. Roll one half of each ball in the set aside hazelnuts. (I totally did not need the whole 1/2 cup the original recipe called for). Place the balls on the greased baking sheets. They don't spread much at all, so you can place them a couple inches apart. I could fit 16 easily rather than my usual 12 on a standard baking sheet. Bake at 325 for about 25 minutes. :et the cookies cool off a bit, then sift powdered sugar on the plain half of the cookies.
Enjoy.
Makes about 5 dozen cookies.
Evil Chopper of Time Consumption and Frustration: