These guys are on my flora shit list.
Criminal number one:
Hairy Bittercress. Spawns like rabbits and Quiverfull fiends. At least the stuff is edible, as a bit of a bitter addition to salads and such.
Purple Dead Nettle. Almost got misidentified as Henbit, which has a pretty cool name. Bees like it. I like honey, and I like flowers to get polinated, so I like bees. If you turn it into tea, it makes you sweat. It's also called Purple Archangel, and the fresh leaves are useful to stop minor surface bleeding.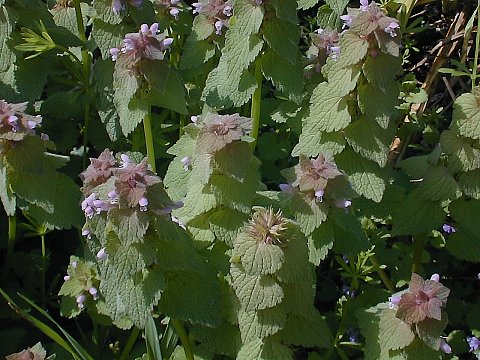 This jerk, Common mallow (Malva neglecta), is
actually medicinal
and can thicken soups like okra does.
A little research and I like some of my weeds. Interesting.
Thanks to
Virginia Tech's Weed ID Guide
wiki
Sand Mountain Herbs