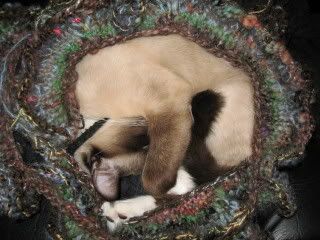 I've had this yarn since the spring, and i waited for it to tell me what to do with it. It was gorgeous and special and I didn't want to make it into something that was contrary to it's being :D
It wasn't a huge amount of yarn, so I decided something small, like a scarf or handwarmers would be best. Since I'm still working on the symmetry required for handwarmers and I was planning on going pattern free, the scarf idea won.
I didn't think a scarf knitted any other way than the long way would do the yarn justice. I casted on, did a few rows, and decided I wanted it longer, so I added some increases here and there. It ended up curling it. I suppose folks that have been knitting longer than I have already would know what would happen, but for me it was amazing to watch it take form. I knew that I was going to run out of yarn if I kept going, so I carefully added other yarns to the project. Because Spindelicious's yarn had so many beautiful colors together in chaotic beautiful harmony, it was easy to add in other yarns.
Hope you like it. It was a fun experiment. I've got complements both time I've worn it. If you want more how-to details, lemme know!